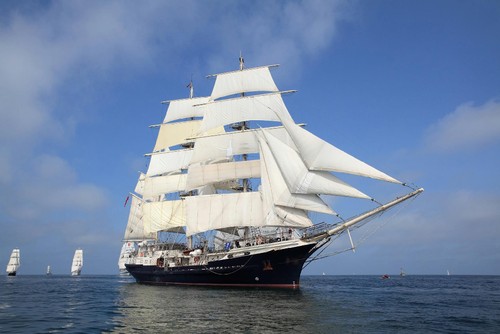 **BREAKING NEWS**
We have just received bursary funding for 5 people to sail on board Tenacious on her brilliant Portimao voyages in the Spring. Originally priced from £795pp, for 5 lucky people you'll only have to pay £99* to help towards the cost of your food on board.
On 17th March, Tenacious, will be setting sail from Valencia to spend a glorious voyage sailing to Portimao. Discovering the gorgeous Spanish and Portuguese coastlines along the way, she'll arrive in the Algarve after a brilliant 8 day sailing adventure. From here she'll then embark on an exciting 11 day voyage to the Azores. Setting out across the open sea, she'll experience some excellent sailing - and will also have a great chance of seeing some whales on her crossing. The Azores are one of the best places in the world to discover whales and dolphins - especially in April when these fantastic animals migrate past the islands.
Not only will you get to experience these wonderful destinations, but at the same time you'll also be learning how to sail a remarkable tall ship. Setting the sails, helming the ship and climbing the mast are just a few of the things you will be learning. And what's more - Tenacious is one of only 2 accessible tall ships in the world that was designed and built to accommodate a wide range of physical disabilities. So it doesn't matter what physical ability you are - you will become a vital part of the crew no matter your capabilities.
For more information about these brilliant voyages please contact Josephine on +44 (0)23 8042 6849 or email Josephine@jst.org.uk and if you know anyone who may be interested please share this with them.
*Transport to and from the ship not included.